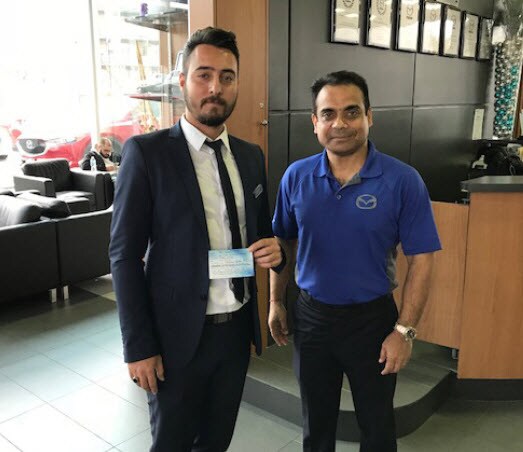 Everything we do has the potential to make a difference, no matter how small or routine the action seems. A recent CBC Marketplace report called
How Not to Buy a Car
illustrates this point. In it, Ali Erol, our Pre-Owned Sales Manager, proves that long-term relationships always win over short-term gains.
The segment sends Jenny, a reporter genuinely looking for her first car, to see how dealerships explain financing options. Most dealerships automatically pushed seven-year financing terms without presenting other options.
How did Mazda measure up? Ali was the only dealership team member that presented all financing options in detail. The experts on the show praised Ali for giving the best advice out of everyone shown.
"I dealt with Jenny just before going on vacation," Ali says. "When I got back, I had a voicemail from her letting me know I was going to be on the show. I wasn't worried though, I knew I'd come out looking okay. I was mostly interested in seeing how the other dealerships did."
By pushing longer terms, dealerships can make expensive vehicles look more affordable to consumers. This can potentially push them into debt they can't handle. This footage was also shown to John Carmichael, the CEO of the Ontario Motor Vehicle Industry Council (OMVIC). He expressed concern about how the other dealerships conducted themselves.
"You can only fool the customer once. If you are dishonest with them, they will remember that the next time they look for a vehicle," Ali says. "Customers keep coming back to me and my team for help because they trust us. I was doing this before the Quality Standards came out. But every day I look at them on my desk and it reaffirms that being honest will always win in the long-run."
This is a sentiment echoed and instilled by Yorkdale-Dufferin Mazda's Dealer Principal and General Manager, Subhojit Das. "Dealing with integrity is the only way we do business. It's a value and culture I've tried to build from the top down," says Das. "We're not going to compromise our interactions with customers just to make a sale."
.